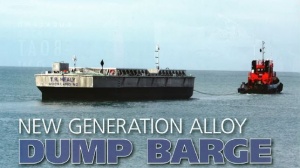 New Generation Alloy Dump Barge
The recent launching and delivery of a purpose built 1200 gross tonne spoil dump barge has certainly turned some heads.
"This is the first of the new generation alloy dump barges we have been fortunate to review and it is hugely engineered, the internal framing and structure is immense. For a dumb clamshell split hopper barge she has appealing lines and a functionality about her that sets her up for the job at hand."