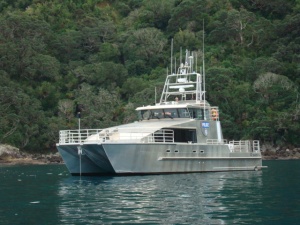 Police welcome new launch
New Zealand Herald
A new $2.8 million police launch will be operating in Auckland in time for summer, with a second for Wellington probably not far behind
Auckland's Deodar III was well advanced at a Wanganui boat builder's yard and was due to be commissioned in Auckland on December 14, the Police Association said yesterday.
The Wellington launch, Lady Elizabeth III, was also due for replacement after nearly 20 years of service, the association said. Its predecessor sank in 1986, with the loss of two crew, Constable Glen Hughes and Sergeant Phil Ward.
The new Deodar, an 18.4m, twin-hulled aluminium boat with a top speed of 25 knots, was expected to be a prototype for the Lady Elizabeth replacement, the association said.
It would be powered by twin Hamilton jet units, expected to give it a high degree of manoeuvrability.
Deodar III, which is to replace the 15-year-old Deodar II, will also be used on customs operations and with other Government departments. The new boat is one of four expected to be built.
Senior Sergeant Martin Paget said Deodar II had become increasingly expensive to maintain.
Its successor would be launched next month for extensive sea trials in Wanganui before commissioning.
Mr Paget said a hydraulic ramp on the stern to retrieve the launch's 4.5m rigid-hulled inflatable boat (RIB) was an impressive feature.
The ramp could be lowered to water level and the inflatable could be moved off. "Getting RIBs off a boat in anything but ideal conditions is always fraught with danger," Mr Paget said. "It is something we have struggled with for years."
- NZPA